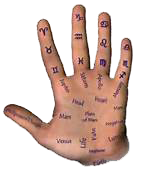 All my life I have had a passion for astrology and palmistry. The lines of life, heart and mind of palmistry reveal insights about one's life direction, character and fate. They are like a blueprint of the brain's nervous and emotional activity and can reveal the types of mental and emotional state of mind why lines can change as we grow in depth and wisdom. They can show where we may have had traumas that need to be healed.
Astrology contends that the soul enters the body at the first breath. It is only at that breath that one starts its own path and karma. As ancient as the pyramids the heavenly stars and planets of the Zodiac has been studied to interpret the character, growth patterns and destiny in life. Since retiring from teaching, I have focused on doing private consultations, lecturing, and seminars on palmistry, astrology and astro-palmistry as well. The road maps of palmistry and astrology are so helpful when you use their insights in navigate the joys and challenges this life

Click the Zodiac to learn more!